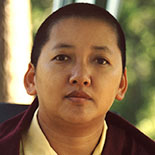 Mindrolling Jetsün Khandro Rinpoche (birth name Tsering Paldrön, born August 19, 1967) is a Tibetan Buddhist lama.
Born in Kalimpong, India and the daughter of His Holiness the late Mindrolling Trichen, Khandro Rinpoche was, at the age of two, recognized by Rangjung Rigpe Dorje the 16th Karmapa as the re-incarnation of the Great Dakini of Tsurphu, Khandro Urgyen Tsomo, who was one of the most well known female masters of her time. Khandro Urgyen Tsomo was the consort to the 15th Gyalwa Karmapa Khakyab Dorje (1871–1922) and an incarnation of Yeshe Tsogyal. Her name is in fact her title, Khandro being Tibetan for Dakini and Rinpoche being an honorific usually reserved for Tulkus, willfully incarnate lamas, which means "precious one."
Mindrolling Jetsün Khandro Rinpoche is a teacher in both the Kagyu and Nyingma schools of Tibetan Buddhism. She speaks fluent English, Tibetan, and Hindi dialects and has completed a Western education at St. Joseph's Convent, Wynberg Allen, and St. Mary's Convent, both in India. Rinpoche has been teaching in Europe, North America and Southeast Asia since 1987. She has established and heads the Samten Tse Retreat Center in Mussoorie, India, and she is also resident teacher at Lotus Garden Retreat Center in Virginia, USA. She is also actively involved with the administration of the Mindroling Monastery in Dehradun, India. Additionally, she is interested in interfaith dialogue and currently sits on the Board of World Religious Leaders for the Elijah Interfaith Institute.