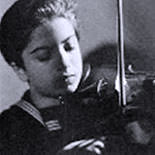 Ruggiero Ricci (July 24, 1918 – August 6, 2012) was an American violinist known for performances and recordings of the works of Paganini.
Ricci gave his first public performance in 1928 at the age of 10 in San Francisco where he played works by Wieniawski and Vieuxtemps. He gained a reputation for being a child prodigy. At the age of 11, he gave his first orchestral performance, playing the Mendelssohn concerto, and soon after he had his highly successful debut at Carnegie Hall.
In 1947, Ricci was the first violinist to record the complete 24 Caprices, Op. 1, by Paganini, in their original form. Ricci's first recording was on the Shellac recording label (he later made three other recordings of the Caprices). After his time in the military, he uncovered many pieces by 19th-century composers that he would perform solo. He also performed the world premieres of pieces by many contemporary composers, including the violin concertos by Gottfried von Einem and Alberto Ginastera.
Aside from performing over 6,000 concerts in 65 countries during his 70-year solo career, Ricci also made over 500 recordings, on every major label. He taught violin at Indiana University, the Juilliard School and the University of Michigan. He also taught at the University Mozarteum in Salzburg, Austria. Ricci held master classes in the United States and Europe. He wrote Left Hand Technique, a pedagogical volume for violin published by G. Schirmer.
Ricci owned many precious instruments, including the Guarneri Del Gesù violin known as the ex-Bronisław Huberman of 1734, a fine Storioni, a Luiz Bellini, a Curtin & Alf, a David Bague and a couple of Regazzi. He played, on September 18 1997, his fourth recording of the Paganini Caprices on Paganini's own Guarneri, Il Cannone, on loan to him by the City of Genoa, Italy.