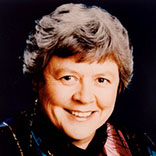 Jean Redpath (born April 28, 1937) is a singer of folk songs and Scottish music.
Redpath was born in Edinburgh, to musical parents. Her mother knew many Scots songs and passed them on to Jean and her brother; her father played the hammer dulcimer. She was raised in Leven, Fife, Scotland, and later returned to Edinburgh, taking medieval studies at the university. Hamish Henderson was working in the School of Scottish Studies and Redpath took a keen interest in the archive of tapes and discs of music and songs. To help pay her way through her studies, she worked as a driving instructor and undertaker's assistant. She learned about 400 songs, together with the oral folklore that went with them.
In March 1961, at the age of 24, she went to the United States. Her first performance was in San Francisco. Later she met up with Ramblin' Jack Elliott and Bob Dylan in Greenwich Village. The natural warmth and power of her voice brought her to perform at Gerde's Folk City. In 1963, following a concert performance, she signed up with Elektra Records. In 1975 she switched to the Philo label. From 1972 to 1976 Jean was artist-in-residence at Wesleyan University in Middletown, Connecticut. She lectured in folklore and gave talks in schools.
In 1976 Redpath embarked on a project to record all the songs of Robert Burns, some being folk songs, some Burns's own compositions, and most a mixture of the two. Twenty-two volumes were planned, but when her collaborator, the composer Serge Hovey, died after seven volumes, the project came to a premature end. Hovey had done the instrumental arrangements for 323 songs, and Redpath felt that no other musician could replace him. The albums won critical praise from around the world. In 1986 she recorded Lady Nairne, a collection of songs written by Scottish women. Redpath has sensitively reconstructed many songs that might otherwise have been lost.