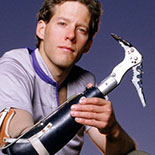 Aron Lee Ralston (born October 27, 1975) is an American outdoorsman, engineer and motivational speaker.
He survived a canyoneering accident in southeastern Utah in 2003, during which he amputated his own right forearm with a dull pocketknife in order to extricate himself from a dislodged boulder, which had him trapped for five days and seven hours (127 hours). After he freed himself, he had to make his way through the remainder of the canyon, then rappel down a 65-foot (20 m) sheer cliff face to reach safety.
The incident is documented in Ralston's autobiography Between a Rock and a Hard Place and is the subject of the 2010 film 127 Hours starring James Franco.