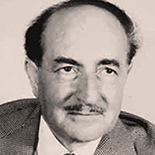 Salvatore Quasimodo (August 20, 1901 – June 14, 1968) was an Italian author and poet.
In 1959 he won the Nobel Prize for Literature "for his lyrical poetry, which with classical fire expresses the tragic experience of life in our own times". Along with Giuseppe Ungaretti and Eugenio Montale, he is one of the foremost Italian poets of the 20th century.
AND SUDDENLY IT IS EVENING
Salvatore Quasimodo
Everyone stands alone at the heart of this earth
Stunned by a ray of sunlight
and suddenly it is evening.
=========
MAN OF MY TIME
Salvatore Quasimodo
You are still the one with the stone and sling,
man of my time. You were there in the cockpit,
with evil wings, the sundials of death,
—I have seen you—in the fire-chariot, at the gallows,
at the torture wheels. I have seen you; it was you
with your knowledge precisely extermination-guided,
loveless, Christless. You have killed again
as before, as your fathers killed, as the beasts
killed when first they saw you.
And this blood smells as it did on the day
when the brother said to the other brother:
Let us go into the fields. And that chill, clinging echo
has reached down even to you, within your day.
Forget, O sons, the blood clouds
risen from earth, forget the fathers:
their tombs sink down in the ashes;
the black birds, the wind, cover over their hearts.