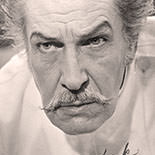 Vincent Leonard Price, Jr. (May 27, 1911 – October 25, 1993) was an American actor.
He is known for his distinctive voice and serio-comic performances in a series of horror films made in the latter part of his career.
Price was born in St. Louis, Missouri, youngest of the four children of Vincent Leonard Price, Sr., president of the National Candy Company, and his wife Marguerite Cobb Wilcox. His grandfather, Vincent Clarence Price, invented "Dr. Price's Baking Powder," the first cream of tartar baking powder, and secured the family's fortune.
Price attended St. Louis Country Day School. In 1933, he graduated with a degree in art history from Yale University, where he worked on campus humor magazine The Yale Record. After teaching for a year, he entered the University of London, intending to study for a Masters Degree in Fine Arts. Instead, he was drawn to the theater, first appearing on stage professionally in 1934. His acting career began on stage in London in 1935, and he performed with Orson Welles's Mercury Theater.
Price, who studied Art History (along with English) at Yale, was a noted art lover and collector. In addition to establishing the Vincent Price Art Museum at East Los Angeles College, Price also spent time working as an art consultant for Sears in the early 1960s. Public access to fine art was important to Price, who, according to his daughter, Victoria, saw the Sears deal as an "opportunity to put his populist beliefs into practice, to bring art to the American public."