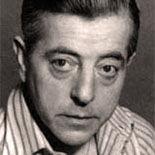 Jacques Prévert (February 4, 1900 – April 11, 1977) was a French poet and screenwriter.
His best regarded films formed part of the poetic realist movement, and include Les Enfants du Paradis (1945).

BREAKFAST
Jacques Prévert
He poured the coffee
Into the cup
He poured the milk
Into the cup of coffee
He added the sugar
To the coffee and milk
He stirred it
With a teaspoon
He drank the coffee
And put back the cup
Without speaking to me
He lit a cigarette
He blew some rings
With the smoke
He flicked the ashes
Into the ashtray
Without speaking to me
Without looking at me
He got up
He put his hat
On his head
He put on
His raincoat
Because it was raining
He went out
Into the rain
Without a word
Without looking at me
And I
I took my head
In my hands
And I wept
=========
PARIS AT NIGHT
Jacques Prevert
Three matches one by one struck in the night
The first to see your face in its entirety
The second to see your eyes
The last to see your mouth
And the darkness all around to remind me of all these
As I hold you in my arms.