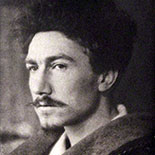 Ezra Weston Loomis Pound (October 30, 1885 – November 1, 1972) was an American expatriate poet and critic of the early modernist movement.
Pound's contribution to poetry began with his promotion of Imagism, a movement that derived its technique from classical Chinese and Japanese poetry, stressing clarity, precision and economy of language. His best-known works include Ripostes (1912), Hugh Selwyn Mauberley (1920) and his unfinished 120-section epic, The Cantos (1917–1969).
Ezra Pound is generally considered the poet most responsible for defining and promoting a modernist aesthetic in poetry. In the early teens of the twentieth century, he opened a seminal exchange of work and ideas between British and American writers, and was famous for the generosity with which he advanced the work of major contemporaries. His later work, for nearly fifty years, focused on the encyclopedic epic poem he entitled The Cantos.
A VIRGINAL
Ezra Pound
No, no! Go from me. I have left her lately.
I will not spoil my sheath with lesser brightness,
For my surrounding air hath a new lightness;
Slight are her arms, yet they have bound me straitly
And left me cloaked as with a gauze of aether;
As with sweet leaves; as with subtle clearness.
Oh, I have picked up magic in her nearness
To sheathe me half in half the things that sheathe her.
No, no! Go from me. I have still the flavour,
Soft as spring wind that's come from birchen bowers.
Green come the shoots, aye April in the branches,
As winter's wound with her sleight hand she staunches,
Hath of the trees a likeness of the savour:
As white their bark, so white this lady's hours.
========
ALBA
Ezra Pound
As cool as the pale wet leaves
of lily-of-the-valley
She lay beside me in the dawn.