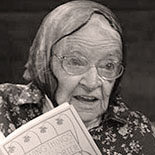 Anne Elizabeth Channing Porter (November 6, 1911 – October 10, 2011), American poet.
When Anne's husband died in 1975, she began to write poetry. Her first collection, An Altogether Different Language (1994), published when she was 83, was named a finalist for the National Book Award. Her other volume of poetry is Living Things: Collected Poems (2006). Her work has been anthologized in the Oxford Book of American Poetry (2006), and featured on Garrison Keillor's radio program, The Writer's Almanac.
In Publishers Weekly, David Shapiro observed that "Porter writes what might best be called plainsong: short, unadorned works that, like gospel or folk music, cut directly to the ambiguous heart of things." David Lehman, editor of the Oxford Book of American Poetry, called her "a marvelously talented poet who has not yet received the recognition that is her due." Of her own late arrival on the poetry scene, Porter noted: "People don't use their creativity as they get older. They think this is supposed to be the end of this and the end of that. But you can't always be so sure that it is the end."
AN ALTOGETHER DIFFERENT LANGUAGE
Anne Porter
There was a church in Umbria, Little Portion,
Already old eight hundred years ago.
It was abandoned and in disrepair
But it was called St. Mary of the Angels
For it was known to be the haunt of angels,
Often at night the country people
Could hear them singing there.
What was it like, to listen to the angels,
To hear those mountain-fresh, those simple voices
Poured out on the bare stones of Little Portion
In hymns of joy?
No one has told us.
Perhaps it needs another language
That we have still to learn,
An altogether different language.
=======
WINTER TWILIGHT
Anne Porter
On a clear winter's evening
The crescent moon
And the round squirrels' nest
In the bare oak
Are equal planets.