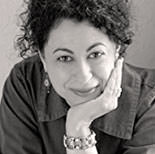 Elizabeth Poliner is the author of As Close to Us as Breathing, a novel (winner of the 2017 Janet Heidinger Kafka Prize in Fiction and an Amazon Best Book of 2016); Mutual Life & Casualty, a novel-in-stories; What You Know in Your Hands, a poetry collection; and Sudden Fog, a poetry chapbook. Her short fiction and poetry have appeared widely in literary journals including the Kenyon Review, The Southern Review, Michigan Quarterly Review, and Colorado Review. She is a recipient of seven individual artist grants from the D.C. Commission on the Arts and Humanities, fiction fellowships to the Wesleyan and Sewanee writers' conferences, and artist residencies at the MacDowell Colony, Yaddo, the Wurlitzer Foundation, and the Virginia Center for the Creative Arts. She teaches creative writing in the MFA and undergraduate programs at Hollins University where she is an associate professor.
WALKING AT NIGHT
Elizabeth Poliner
Sometimes the horses grazing
in the nearby pastures come to the fence
and we talk. Or I do, and they seem to listen.
Last night, the pastures empty,
I walked to the stables,
stood before one extraordinary body
then the next: massive, lean,
muscular, gleaming
as if just polished, muzzles
pressed forward as I approached,
and me too, pressing forward,
eager for another visit. In the dark
I have told the horses
my fears and dreams. Have told them
I am leaving soon. Said
hello, sweet to see you.
have reached out to them
as they gather close, wait in turn
to nuzzle. Someone has loved these horses,
who come near so readily
to a calm stranger
offering only the sugar
of her prayers. That we are never alone
is something I want to believe
and have come to believe, while alone,
deep in the night,
taking the path
that leads to the horses.