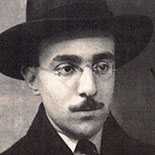 Fernando Pessoa, born Fernando António Nogueira Pessoa (June 13, 1888 – November 30, 1935), was a Portuguese poet, writer, literary critic, translator, publisher and philosopher.
He is described as one of the most significant literary figures of the 20th century and one of the greatest poets in the Portuguese language. He also wrote in and translated from English and French.
I DON'T KNOW HOW MANY SOULS I HAVE
Fernando Pessoa
I don't know how many souls I have.
I've changed at every moment.
I always feel like a stranger.
I've never seen or found myself.
From being so much, I have only soul.
A man who has soul has no calm.
A man who sees is just what he sees.
A man who feels is not who he is.
Attentive to what I am and see,
I become them and stop being I.
Each of my dreams and each desire
Belongs to whoever had it, not me.
I am my own landscape,
I watch myself journey –
Various, mobile, and alone.
Here where I am I can't feel myself.
That's why I read, as a stranger,
My being as if it were pages.
Not knowing what will come
And forgetting what has passed,
I note in the margin of my reading
What I thought I felt.
Rereading, I wonder: "Was that me?"
God knows, because he wrote it.
=========
I HAVE A TERRIBLE COLD
Fernando Pessoa

I have a terrible cold,
And everyone knows how terrible colds
Alter the whole system of the universe,
Set us against life,
And make even metaphysics sneeze.
I have wasted the whole day blowing my nose.
My head is aching vaguely.
Sad condition for a minor poet!
Today I am really and truly a minor poet.
What I was in old days was a wish; it's gone.
Goodbye for ever, queen of fairies!
Your wings were made of sun, and I am walking here.
I shan't get well unless I go and lie down on my bed.
I never was well except lying down on the Universe.
Excusez un peu… What a terrible cold!… it's
physical!
I need truth and aspirin.