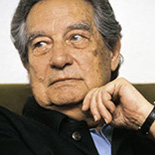 Octavio Paz Lozano (March 31, 1914 – April 19, 1998) was a Mexican poet-diplomat and writer.
For his body of work, he was awarded the 1981 Miguel de Cervantes Prize, the 1982 Neustadt International Prize for Literature and the 1990 Nobel Prize in Literature.

AXIS
Octavio Paz
Through the conduits of blood
my body in your body
spring of night
my tongue of sun in your forest
your body a kneading trough
I red wheat
Through conduits of bone
I night I water
I forest that moves forward
I tongue
I body
I sun-bone
Through the conduits of night
spring of bodies
You night of wheat
you forest in the sun
you waiting water
you kneading trough of bones
Through the conduits of sun
my night in your night
my sun in your sun
my wheat in your kneading trough
your forest in my tongue
Through the conduits of the body
water in the night
your body in my body
Spring of bones
Spring of suns
======
BROTHERHOOD
Octavio Paz
I am a man: little do I last
and the night is enormous.
But I look up:
the stars write.
Unknowing I understand:
I too am written,
and at this very moment
someone spells me out.