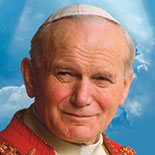 Pope John Paul II (born Karol Józef Wojtyła (May 18, 1920 – April 2, 2005), served as Pope from 1978 to 2005.
He was elected by the second Papal conclave of 1978, which was called after Pope John Paul I, who was elected in August after the death of Pope Paul VI, died after thirty-three days. Then-Cardinal Wojtyła was elected on the third day of the conclave and adopted his predecessor's name in tribute to him. In the years since his death, John Paul II has been declared a saint by the Roman Catholic Church. He is referred to by Roman Catholics as Pope Saint John Paul II or Saint John Paul the Great, for example as a name for institutions.
He was one of the most travelled world leaders in history, visiting 129 countries during his pontificate. As part of his special emphasis on the universal call to holiness, he beatified 1,340 people and canonised 483 saints, more than the combined tally of his predecessors during the preceding five centuries. By the time of his death, he had named most of the College of Cardinals, consecrated or co-consecrated a large number of the world's bishops, and ordained many priests. A key goal of his papacy was to transform and reposition the Catholic Church. His wish was "to place his Church at the heart of a new religious alliance that would bring together Jews, Muslims and Christians in a great religious armada".