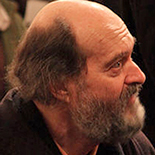 Arvo Part, born September 11, 1935, is an Estonian classical composer and composer of sacred music.
Since the late 1970s, Pärt has worked in a minimalist style that employs his self-invented compositional technique, tintinnabuli. His music also takes inspiration from Gregorian chant. He is often associated with the New Simplicity movement.
Pärt was born in Paide, Järva County, Estonia. A prolonged struggle with Soviet officials led him to emigrate with his wife and their two sons in 1980. He lived first in Vienna, where he took Austrian citizenship and then relocated to Berlin, Germany, in 1981. He returned to Estonia around the turn of the 21st century and now lives alternately in Berlin and Tallinn. He speaks fluent German and has German citizenship as a result of living in Germany since 1981.
Spiegel im Spiegel is a piece of music written by Arvo Pärt in 1978, just prior to his departure from Estonia. The piece is in the tintinnabular style of composition, wherein a melodic voice, operating over diatonic scales, and tintinnabular voice, operating within a triad on the tonic, accompany each other. It is about ten minutes long.
The piece was originally written for a single piano and violin – though the violin has often been replaced with either a cello or a viola. Versions also exist for double bass, clarinet, horn, flute, bassoon, and percussion. The piece is an example of minimal music.
The piece is in F major in 6/4 time, with the piano playing rising crotchet triads and the second instrument playing slow scales, alternately rising and falling, of increasing length, which all end on the note A (the mediant of F). The piano's left hand also plays notes, syncopated with the violin (or other instrument).
"Spiegel im Spiegel" in German literally can mean both "mirror in the mirror" as well as "mirrors in the mirror", referring to the infinity of images produced by parallel plane mirrors: the tonic triads are endlessly repeated with small variations as if reflected back and forth.