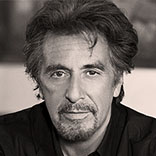 Alfredo James "Al" Pacino (born April 25, 1940) is an American film and stage actor and director.
He is well known for playing mobsters, including Michael Corleone in The Godfather trilogy and Tony Montana in Scarface, and often appeared on the other side of the law—as a police officer, a detective and lawyer. For his performance as Frank Slade in Scent of a Woman he won the Academy Award for Best Actor in 1992. He had received seven previous Oscar nominations, including one in that same year.
He made his feature film debut in the 1969 film Me, Natalie in a minor supporting role, before playing the lead role in the 1971 drama The Panic in Needle Park. Pacino made his major breakthrough with the role of Michael Corleone in The Godfather in 1972, which earned him an Academy Award nomination for Best Supporting Actor. Other Oscar nominations for Best Supporting Actor were for Dick Tracy and Glengarry Glen Ross. Oscar nominations for Best Actor include The Godfather Part II, Serpico, Dog Day Afternoon, …And Justice for All.
In addition to a career in film, he has enjoyed a successful career on stage, winning Tony Awards for Does a Tiger Wear a Necktie? and The Basic Training of Pavlo Hummel. A longtime fan of Shakespeare, he made his directorial debut with Looking for Richard, a quasi-documentary on the play Richard III. Pacino has received numerous lifetime achievement awards, including one from the American Film Institute. He is a method actor, taught mainly by Lee Strasberg and Charles Laughton at the Actors Studio in New York.
Although he has never married, Pacino has had several relationships with actresses and has three children.