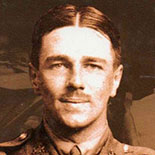 Wilfred Edward Salter Owen (March 18, 1893 – November 4, 1918) was an English poet and soldier, one of the leading poets of the First World War.
His shocking, realistic war poetry on the horrors of trenches and gas warfare was heavily influenced by his friend and mentor Siegfried Sassoon, and stood in stark contrast both to the public perception of war at the time and to the confidently patriotic verse written by earlier war poets such as Rupert Brooke. Among his best-known works – most of which were published posthumously – are "Dulce et Decorum est", "Insensibility", "Anthem for Doomed Youth", "Futility" and "Strange Meeting".
ANTHEM FOR DOOMED YOUTH
Wilfred Owen
What passing-bells for these who die as cattle?
Only the monstrous anger of the guns.
Only the stuttering rifles' rapid rattle
Can patter out their hasty orisons.
No mockeries for them; no prayers nor bells,
Nor any voice of mourning save the choirs,—
The shrill, demented choirs of wailing shells;
And bugles calling for them from sad shires.
What candles may be held to speed them all?
Not in the hands of boys, but in their eyes
Shall shine the holy glimmers of good-byes.
The pallor of girls' brows shall be their pall;
Their flowers the tenderness of patient minds,
And each slow dusk a drawing-down of blinds.
========
ASLEEP
Wilfred Owen
Under his helmet, up against his pack,
After so many days of work and waking,
Sleep took him by the brow and laid him back.
There, in the happy no-time of his sleeping,
Death took him by the heart. There heaved a quaking
Of the aborted life within him leaping,
Then chest and sleepy arms once more fell slack.
And soon the slow, stray blood came creeping
From the intruding lead, like ants on track.
Whether his deeper sleep lie shaded by the shaking
Of great wings, and the thoughts that hung the stars,
High-pillowed on calm pillows of God's making,
Above these clouds, these rains, these sleets of lead,
And these winds' scimitars,
-Or whether yet his thin and sodden head
Confuses more and more with the low mould,
His hair being one with the grey grass
Of finished fields, and wire-scrags rusty-old,
Who knows? Who hopes? Who troubles? Let it pass!
He sleeps. He sleeps less tremulous, less cold,
Than we who wake, and waking say Alas!