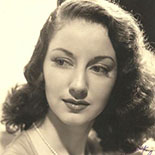 Virginia Lee O'Brien (April 18, 1919 – January 16, 2001) was an American actress, singer, and radio personality.
O'Brien is known for her comedic roles in Metro-Goldwyn-Mayer musicals of the 1940s.
She primarily performed in comedic roles during the height of her formal film career. This was in part due to her intentionally humorous singing style, which involved her singing in a deadpan manner, with no facial expressions and very little movement– reportedly she stumbled upon this "gimmick" by accident during a stage show when she became virtually paralyzed with stage fright before singing a number in the Los Angeles stage production Meet The People. The audience found the performance to be hilarious and she was soon hired to repeat this performance in a number of movies beginning in 1940, for which she gained the nicknames "Frozen Face" and "Miss Ice Glacier" among others.
When she wasn't singing, her acting style was just as emotive as other actresses, and she didn't always employ her gimmick when singing as evidenced by her performance in the excerpt from Show Boat in the 1946 film Till the Clouds Roll By. She made her Broadway debut in the short-lived musical Keep Off The Grass with Jimmy Durante, and recorded four of the songs for Columbia Records. She also recorded several sides for Decca Records, including two of her signature songs — "The Wild, Wild West" and "Say We're Sweethearts Again."