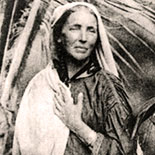 Marianne North (October 24, 1830 – August 30, 1890) was a prolific English Victorian biologist and botanical artist, notable for her plant and landscape paintings, her extensive foreign travels, her writings, her plant discoveries and the creation of her gallery at the Royal Botanic Gardens, Kew.
Marianne North was the eldest daughter of a prosperous land-owning family descended from the Hon. Roger North, younger son of Dudley North, 4th Baron North.
She trained as a vocalist under Charlotte Helen Sainton-Dolby, but her voice failed, and she then devoted herself to painting flowers. After the death of her mother in 1855, she constantly travelled with her father, who was then member of parliament for Hastings; and on his death in 1869 she decided to pursue her early ambition of painting the flora of distant countries.
She began her travels in 1871–1872, going first to Canada, the United States and Jamaica, and spent a year in Brazil, where she did much of her work at a hut in the depths of a forest. In 1875, after a few months in Tenerife, she began a journey round the world, and for two years painted the flora of California, Japan, Borneo, Java and Ceylon. She spent 1878 in India.
On her return to Britain she exhibited a number of her drawings in London. She offered to give the collection to the Royal Botanic Gardens at Kew, and to erect a gallery to house them. This offer was accepted, and the new buildings, designed by James Fergusson, were begun that year.
At Charles Darwin's suggestion she went to Australia in 1880, and for a year painted there and in New Zealand. On her return, she presented Darwin the shrub 'Austrian Sheep' as a gift and showed him her Australian pictures. Her paintings of Banksia attenuata, B. grandis and B. robur were highly regarded. Her gallery at Kew was opened in 1882. In 1883, after a visit by her to South Africa, an additional room was opened at the Kew gallery, and in 1884–1885 she worked at Seychelles and in Chile.