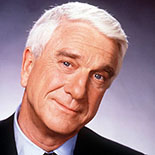 Leslie William Nielsen, (February 11, 1926 – November 28, 2010) was a Canadian-American actor and comedian.
Nielsen appeared in more than 100 films and 150 television programs, portraying more than 220 characters. Nielsen was born in Regina, Saskatchewan, Canada. He enlisted in the Royal Canadian Air Force and later worked as a disc jockey before receiving a scholarship to study theatre at the Neighborhood Playhouse. Making his acting debut in 1948, he made more than 50 television appearances two years later. Nielsen later made his film debut in 1956, with supporting roles in several drama, western, and romance films produced between the 1950s and the 1970s, with Nielsen crossing genres in both television and films.
Although his notable performances in the films Forbidden Planet and The Poseidon Adventure gave him standing as a serious actor, Nielsen eventually gained enduring recognition for his deadpan comedy roles during the 1980s and the early 1990s, after being cast against type for the Zucker, Abrahams, and Zucker comedy film Airplane!. Nielsen specialized in his portrayal of characters oblivious to and complicit in their absurd surroundings, which gave him a reputation as a comedian. Airplane! marked Nielsen's turning point, which made him, "the Olivier of spoofs", according to film critic Roger Ebert,[5] and led to more further success in the genre with The Naked Gun film series, based on their earlier short-lived television series Police Squad!, in which he also starred. Nielsen received a variety of awards and was inducted into the Canada and Hollywood Walks of Fame.