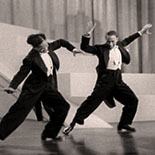 Fayard Antonio Nicholas (October 20, 1914 – January 24, 2006) was an American choreographer, dancer and actor.
He, along with his brother Harold, made up the Nicholas Brothers tap-dance duo who starred in the MGM musicals An All-Colored Vaudeville Show (1935), Stormy Weather (1943), The Pirate (1948), The Five Heartbeats (1991) and Hard Four (2007). Fayard along with his brother Harold also starred in the 20th Century-Fox musicals "Down Argentine Way" (1940), "Sun Valley Serenade" (1941), and "Orchestra Wives" (1942). Fayard Nicholas was a member of the Bahá'í Faith.
Fayard was inducted into the National Museum of Dance C.V. Whitney Hall of Fame in 2001, along with his brother Harold Nicholas.