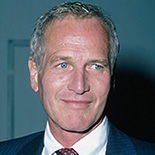 Paul Leonard Newman (January 26, 1925 – September 26, 2008) was an American actor, film director, entrepreneur, humanitarian, professional racing driver, auto racing team owner and auto racing enthusiast.
Newman won numerous awards, including an Academy Award for best actor for his performance in the 1986 Martin Scorsese film The Color of Money and eight other nominations, six Golden Globe Awards (including three honorary ones), a BAFTA Award, a Screen Actors Guild Award, a Cannes Film Festival Award, an Emmy Award, and many honorary awards. He also won several national championships as a driver in Sports Car Club of America road racing, and his race teams won several championships in open wheel IndyCar racing.
Newman was a co-founder of Newman's Own, a food company from which Newman donated all post-tax profits and royalties to charity. As of 2013, these donations exceeded $380 million. He also founded the SeriousFun Children's Network, a global family of camps and programs for children with serious illness which has served 290,076 children since 1988.
Newman was one of the few actors who successfully made the transition from 1950s cinema to that of the 1960s and 1970s. His rebellious persona translated well to a subsequent generation. Newman starred in Exodus (1960), The Hustler (1961), Hud (1963), Harper (1966), Hombre (1967), Cool Hand Luke (1967), The Towering Inferno (1974), Slap Shot (1977), and The Verdict (1982). He teamed with fellow actor Robert Redford and director George Roy Hill for Butch Cassidy and the Sundance Kid (1969) and The Sting (1973).
He appeared with his wife, Joanne Woodward, in the feature films The Long, Hot Summer (1958), Rally 'Round the Flag, Boys!, (1958), From the Terrace (1960), Paris Blues (1961), A New Kind of Love (1963), What a Way to Go! (1964), Winning (1969), WUSA (1970), The Drowning Pool (1975), Harry & Son (1984), and Mr. and Mrs. Bridge (1990). They both also starred in the HBO miniseries Empire Falls, but did not have any scenes together.
With writer A. E. Hotchner, Newman founded Newman's Own, a line of food products, in 1982. The brand started with salad dressing, and has expanded to include pasta sauce, lemonade, popcorn, salsa, and wine, among other things. Newman established a policy that all proceeds, after taxes, would be donated to charity. As of 2013, the franchise has donated in excess of $380 million. He co-wrote a memoir about the subject with Hotchner, Shameless Exploitation in Pursuit of the Common Good. Among other awards, Newman's Own co-sponsors the PEN/Newman's Own First Amendment Award, a $25,000 reward designed to recognize those who protect the First Amendment as it applies to the written word.
One beneficiary of his philanthropy is the Hole in the Wall Gang Camp, a residential summer camp for seriously ill children, which is located in Ashford, Connecticut. Newman co-founded the camp in 1988; it was named after the gang in his film Butch Cassidy and the Sundance Kid (1969). Newman's college fraternity, Phi Kappa Tau, adopted Hole in the Wall as their "national philanthropy" in 1995. One camp has expanded to become several Hole in the Wall Camps in the U.S., Ireland, France, and Israel. The camps serve 13,000 children every year, free of charge.
In June 1999, Newman donated $250,000 to Catholic Relief Services to aid refugees in Kosovo. On June 1, 2007, Kenyon College announced that Newman had donated $10 million to the school to establish a scholarship fund as part of the college's current $230 million fund-raising campaign. Newman and Woodward were honorary co-chairs of a previous campaign.
Newman was one of the founders of the Committee Encouraging Corporate Philanthropy (CECP), a membership organization of CEOs and corporate chairpersons committed to raising the level and quality of global corporate philanthropy. Founded in 1999 by Newman and a few leading CEOs, CECP has grown to include more than 175 members and, through annual executive convenings, extensive benchmarking research, and best practice publications, leads the business community in developing sustainable and strategic community partnerships through philanthropy. Newman was named the Most Generous Celebrity of 2008 by Givingback.org. He contributed $20,857,000 for the year of 2008 to the Newman's Own Foundation, which distributes funds to a variety of charities.
Newman is recognized as responsible for preserving lands around Westport, Connecticut. He lobbied the state's governor for funds for the 2011 Aspetuck Land Trust in Easton. In 2011 Paul Newman's estate gifted land to Westport to be managed by the Aspetuck Land Trust.