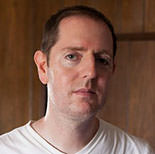 David F. Nazworthy, professionally known as Dave Naz (born September 2, 1969) is an American photographer and film director.
Nazworthy grew up in Beverly Hills, California. He is the son of Maxine F. Nazworthy, a descendant of Max Factor, Sr., founder of Max Factor & Co.. Nazworthy attended El Rodeo Elementary School in Beverly Hills, California and subsequently earned a high school diploma from Beverly Hills High School. From 1985-1997 Nazworthy played in the punk rock bands Chemical People, Down by Law & The Last (band).
Inspired by artists such as: Larry Clark, Nan Goldin and Diane Arbus, Naz started photographing people. In 2001 Naz assisted Photographer Richard Kern and went on to shoot for a number of adult Magazines, including Taboo, Leg Show and Barely Legal. Several of Naz worthy's photos are used in the artwork of Richard Prince. Nazworthy married award winning adult film actress Oriana Small aka Ashley Blue on July 30, 2009.