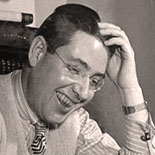 Frederic Ogden Nash (August 19, 1902 – May 19, 1971) was an American poet well known for his light verse.
At the time of his death in 1971, The New York Times said his "droll verse with its unconventional rhymes made him the country's best-known producer of humorous poetry". Nash wrote over 500 pieces of comic verse. The best of his work was published in 14 volumes between 1931 and 1972.
ONE THIRD OF THE CALENDAR
Ogden Nash
In January everything freezes.
We have two children. Both are she'ses.
This is our January rule:
One girl in bed, and one in school.
In February the blizzard whirls.
We own a pair of little girls.
Blessings upon of each the head —-
The one in school and the one in bed.
March is the month of cringe and bluster.
Each of our children has a sister.
They cling together like Hansel and Gretel,
With their noses glued to the benzoin kettle.
April is made of impetuous waters
And doctors looking down throats of daughters.
If we had a son too, and a thoroughbred,
We'd have a horse,
And a boy,
And two girls
In bed.
============
TO MY VALENTINE
Ogden Nash
More than a catbird hates a cat,
Or a criminal hates a clue,
Or the Axis hates the United States,
That's how much I love you.
I love you more than a duck can swim,
And more than a grapefruit squirts,
I love you more than a gin rummy is a bore,
And more than a toothache hurts.
As a shipwrecked sailor hates the sea,
Or a juggler hates a shove,
As a hostess detests unexpected guests,
That's how much you I love.
I love you more than a wasp can sting,
And more than the subway jerks,
I love you as much as a beggar needs a crutch,
And more than a hangnail irks.
I swear to you by the stars above,
And below, if such there be,
As the High Court loathes perjurious oathes,
That's how you're loved by me.