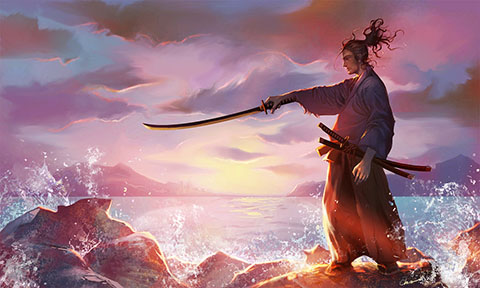 Miyamoto Musashi (c. 1584 – June 13, 1645) was a Japanese swordsman. Musashi, as he was often simply known, became renowned through stories of his excellent swordsmanship in numerous duels, even from a very young age. Miyamoto Musashi is widely considered one of the greatest warriors of all time. He was also a philosopher, poet, painter, and sculptor.
By the age of 30, he had fought and won over 60 duels. Invincible, Musashi eventually retired to a cave where he completed, just few weeks before his death, the well-known classic "A Book of Five Rings", a book on strategy, tactics, and philosophy that is still studied today. He wrote it not only as a thesis on battle strategy but also "for any situation where plans and tactics are used."
Not surprisingly, most business executives of present-day Japan revere Musashi. They use his philosophy as a guide for their daily decisions, managing their businesses like a military operation. The book's strategies can be applied wherever there is conflict and competition. Many Japanese companies have made the book required reading for their key executives. The book is also popular among Western business managers, who turn to it for inspiration and advice on how to succeed in competitive business situations.
Unlike many mundane inspirational or self-improvement business books filled with feel-good platitudes, there is a hard core of wisdom in Musashi that shines through even the most enigmatic precept or the dullest translation.