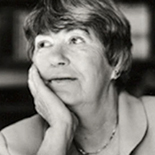 Lisel Mueller (born February 8, 1924) is an American poet. She won the U.S. National Book Award in 1981 and the Pulitzer Prize in 1997.
ALL NIGHT
Lisel Mueller
All night the knot in the shoelace
waits for its liberation,
and the match on the table packs its head
with anticipation of light.
The faucet sweats out a bead of water,
which gathers for the free fall,
while the lettuce in the refrigerator
succumbs to its brown killer.
And in the novel I put down
before I sleep,
the paneled walls of a room
are condemned to stand and wait
for tomorrow, when I'll get to the page
where the prisoner finds the secret door
and steps into the air and the scent of lilacs.
=========
IN PASSING

Lisel Mueller

How swiftly the strained honey
of afternoon light
flows into darkness

and the closed bud shrugs off
its special mystery
in order to break into blossom:

as if what exists, exists
so that it can be lost
and become precious
========
THINGS
Lisel Mueller
What happened is, we grew lonely
living among the things,
so we gave the clock a face,
the chair a back,
the table four stout legs
which will never suffer fatigue.
We fitted our shoes with tongues
as smooth as our own
and hung tongues inside bells
so we could listen
to their emotional language,
and because we loved graceful profiles
the pitcher received a lip,
the bottle a long, slender neck.
Even what was beyond us
was recast in our image;
we gave the country a heart,
the storm an eye,
the cave a mouth
so we could pass into safety.