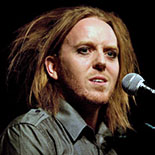 Timothy David "Tim" Minchin (born October 7, 1975) is an Australian comedian, actor, and musician.
Minchin is best known for his musical comedy, including six CDs, five DVDs, and live comedy shows that he has performed internationally.
Minchin has appeared on television in Australia, Britain, and the United States. His show Darkside launched him into the public eye, achieving critical success at the 2005 Melbourne International Comedy Festival and the 2005 Edinburgh Festival Fringe. In 2013, Minchin played the role of rock star Atticus Fetch on Showtime's Californication.