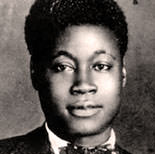 Festus Claudius "Claude" McKay (September 15, 1889 – May 22, 1948) was a Jamaican-American writer and poet, who was a seminal figure in the Harlem Renaissance.
McKay wrote four novels: Home to Harlem (1928), a best-seller that won the Harmon Gold Award for Literature, Banjo (1929), Banana Bottom (1933), and in 1941 a manuscript called Amiable With Big Teeth: A Novel of the Love Affair Between the Communists and the Poor Black Sheep of Harlem that has not yet been published.
McKay also authored collections of poetry, a collection of short stories, Gingertown (1932), two autobiographical books, A Long Way from Home (1937) and My Green Hills of Jamaica (published posthumously), and a non-fiction, socio-historical treatise entitled Harlem: Negro Metropolis (1940). His 1922 poetry collection, Harlem Shadows, was among the first books published during the Harlem Renaissance. His Selected Poems was published posthumously, in 1953.
FLOWER OF LOVE
Claude McKay
The perfume of your body dulls my sense.
I want nor wine nor weed; your breath alone
Suffices. In this moment rare and tense
I worship at your breast. The flower is blown,
The saffron petals tempt my amorous mouth,
The yellow heart is radiant now with dew
Soft-scented, redolent of my loved South;
O flower of love! I give myself to you.
Uncovered on your couch of figured green,
Here let us linger indivisible.
The portals of your sanctuary unseen
Receive my offering, yielding unto me.
Oh, with our love the night is warm and deep!
The air is sweet, my flower, and sweet the flute
Whose music lulls our burning brain to sleep,
While we lie loving, passionate and mute.
========
I KNOW MY SOUL
Claude McKay
I plucked my soul out of its secret place,
And held it to the mirror of my eye,
To see it like a star against the sky,
A twitching body quivering in space,
A spark of passion shining on my face.
And I explored it to determine why
This awful key to my infinity
Conspires to rob me of sweet joy and grace.
And if the sign may not be fully read,
If I can comprehend but not control,
I need not gloom my days with futile dread,
Because I see a part and not the whole.
Contemplating the strange, I'm comforted
By this narcotic thought: I know my soul.
=========
IF WE MUST DIE
Claude McKay
If we must die—let it not be like hogs
Hunted and penned in an inglorious spot,
While round us bark the mad and hungry dogs,
Making their mock at our accursed lot.
If we must die—oh, let us nobly die,
So that our precious blood may not be shed
In vain; then even the monsters we defy
Shall be constrained to honor us though dead!
Oh, Kinsmen! We must meet the common foe;
Though far outnumbered, let us show us brave,
And for their thousand blows deal one deathblow!
What though before us lies the open grave?
Like men we'll face the murderous, cowardly pack,
Pressed to the wall, dying, but fighting back!