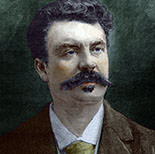 Henri René Albert Guy de Maupassant (August 5, 1850 – July 6, 1893) was a popular French writer, considered one of the fathers of the modern short story and one of the form's finest exponents.
Maupassant was a protégé of Flaubert and his stories are characterized by economy of style and efficient, effortless dénouements (dramatic structure). Many are set during the Franco-Prussian War of the 1870s, describing the futility of war and the innocent civilians who, caught up in events beyond their control, are permanently changed by their experiences. He wrote some 300 short stories, six novels, three travel books, and one volume of verse. His first published story, "Boule de Suif" ("Ball of Fat", 1880), is often considered his masterpiece.
DESIRES
Guy de Maupassant
The dream would be having wings,
to go up in space by pushing great cries,
to take between their fingers the flexible swallows,
And to lose themselves, at the evening, in the obscured skies.
Others would like to be able to crush chests
By closing again above their two isolated arms;
And, without bending kidneys, taking them with the nostrils,
Stopping only one blow the carried horses.
Me; what I would like, it is the carnal beauty:
I would like to be beautiful like the former gods,
And who it remained in the hearts an eternal flame
With the distance memory of my radiant body.
I would like that for me no one remained wise,
Choisir one today, to take the other tomorrow;
Because I would like to gather the love on my passage,
Like one picking of the fruits by extending the hand.
They have, in y corrosive, of different savors;
These various flavors make them softer to us.
I would like to walk my wandering caresses
Of the faces in black hair to the faces in russet-red hair.
I would adore especially the meetings of the streets,
These heats of the flesh, which at a glance unchained,
The one-hour conquests disappeared at once,
Kisses exchanged with the only liking of the chance.
I would like in the morning to see, to wake up the brown one
Who holds you strangled in the vice of his arms;
And the evening, to listen to the word which the blonde says low
Whose face is silver-plated with the moonlight.
Then, without a disorder in the heart, a corrosive regret,
To start from a light foot towards another dream. –
It is necessary in these fruits to put only the tooth:
One would find at the bottom a bitter savour.