Madeline Manning Mims (born January 11, 1948) is a former American athlete.
Between 1967 and 1981 she won ten national titles and set a number of American records. She participated in the 1968, 1972, and 1976 Summer Olympics. She likely also would have participated in the 1980 Games in Moscow, were they not boycotted by the United States. At the 1968 Olympics she was awarded a gold medal in the 800 m, the only American woman to win this event. Until 2008, she was the youngest winner of the event. At the 1972 Games in Munich she won a silver medal in the 4 x 400 m relay with teammates Mable Fergerson, Kathy Hammond, and Cheryl Toussaint.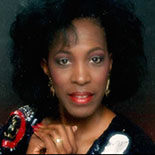 In 1984 she was inducted into the United States National Track and Field Hall of Fame.
Manning is founder and president of the United States Council for Sports Chaplaincy and has been a chaplain at the 1988 Seoul, 1992 Barcelona, 1996 Atlanta, 2000 Sydney, 2004 Athens, and 2008 Beijing Olympic Games. She also has a ministry through sports and the arts known as Ambassadorship, Inc. She is also an author, speaker and contemporary gospel recording artist, who was inducted into the Oklahoma Jazz Hall of Fame in 2005. She is currently studying for a Master of Divinity degree at Oral Roberts University in Tulsa, Oklahoma, and is one of the chaplains of the Tulsa Shock of the WNBA.