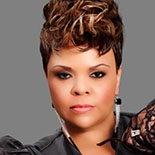 Tamela J. Mann (born June 9, 1966) is an American gospel singer, and actress.
Mann is known for her role as Cora and Myrtle in Tyler Perry's plays, including I Can Do Bad All By Myself, Diary of a Mad Black Woman, Madea's Family Reunion, Madea's Class Reunion, Meet the Browns, and What's Done in the Dark. Mann began her career as a singer with the gospel group Kirk Franklin and the Family. Mann was a featured soloist on several tracks while with Franklin's group, including "Don't Take Your Joy Away", "Now Behold the Lamb", and "Lean on Me", the latter of which also included Mary J. Blige, Crystal Lewis, R. Kelly, and Bono. She released her own album, the Master Plan, in 2009.
Mann has also made appearances in movies such as Kingdom Come and Diary of a Mad Black Woman. Mann recorded some songs on the soundtrack for Diary of a Mad Black Woman, including participating in the song "Father (Can You Hear Me)". Mann is the wife of David Mann, who is known for his role as "Deacon Leroy Brown" in several of Perry's plays.