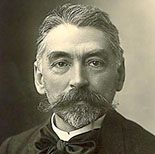 Stéphane Mallarmé (March 18, 1842 – September 9, 1898), whose real name was Étienne Mallarmé, was a French poet and critic.
He was a major French symbolist poet, and his work anticipated and inspired several revolutionary artistic schools of the early 20th century, such as Cubism, Futurism, Dadaism, and Surrealism.
Mallarmé's poetry has been the inspiration for several musical pieces, notably Claude Debussy's Prélude à l'après-midi d'un faune (1894), a free interpretation of Mallarmé's poem L'après-midi d'un faune (1876), which creates powerful impressions by the use of striking but isolated phrases. Maurice Ravel set Mallarmé's poetry to music in Trois poèmes de Stéphane Mallarmé (1913). Other composers to use his poetry in song include Darius Milhaud (Chansons bas de Stéphane Mallarmé, 1917) and Pierre Boulez (Pli selon pli, 1957–62).
Coldplay alludes to his final poem in their song, Vida la Vida. The second verse: I used to roll the dice – Feel the fear in my enemy's eyes – Listen as the crowd would sing – 'Now the old king is dead! Long live the king!' The Viva la Vida album art confirms the subject, featuring a reproduction of Liberty Leading the People by Eugène Delacroix, which commemorates the July Revolution of 1830.
Man Ray's last film, entitled Les Mystères du Château de Dé (The Mystery of the Chateau of Dice) (1929), was greatly influenced by Mallarmé's work, prominently featuring the line "A roll of the dice will never abolish chance".
Mallarmé is referred to extensively in the latter section of Joris-Karl Huysmans' À rebours, where Des Esseintes describes his fervour-infused enthusiasm for the poet: "These were Mallarmé's masterpieces and also ranked among the masterpieces of prose poetry, for they combined a style so magnificently that in itself it was as soothing as a melancholy incantation, an intoxicating melody, with irresistibly suggestive thoughts, the soul-throbs of a sensitive artist whose quivering nerves vibrate with an intensity that fills you with a painful ecstasy." [p. 198, Robert Baldick translation]
The critic and translator Barbara Johnson has emphasized Mallarmé's influence on twentieth-century French criticism and theory: "It was largely by learning the lesson of Mallarmé that critics like Roland Barthes came to speak of 'the death of the author' in the making of literature. Rather than seeing the text as the emanation of an individual author's intentions, structuralists and deconstructors followed the paths and patterns of the linguistic signifier, paying new attention to syntax, spacing, intertextuality, sound, semantics, etymology, and even individual letters. The theoretical styles of Jacques Derrida, Julia Kristeva, Maurice Blanchot, and especially Jacques Lacan also owe a great deal to Mallarmé's 'critical poem.'"
GIFT OF THE POEM
Stéphane Mallarmé
I bring you the child of an Idumaean night,
Black, and with featherless wings bled white:
Through the windows burnished with incense and gold,
The rimed panes mournful, alas, from the cold,
The Dawn spread her fingers upon the angelic
Lamp, and when she had offered this relic
To the father smiling in spite of his qualms,
The sterile, blue silence was wafted by palms!
O mother cradling your infant daughter,
Welcome the birth of this untimely monster!
And with your voice like viol and harpsichord, O singer,
Will you press upon your breast a faded finger,
Through which in sibylline whiteness woman flows
For lips starved from the air the virginal azure blows?