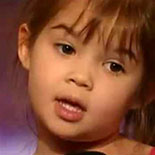 Kaitlyn Ashley Maher (born January 10, 2004) is an American child singer and actress.
In 2008, at the age of 4, she appeared on the third season of America's Got Talent and for her audition sang "Somewhere Out There". She advanced through four rounds of competition and one was of the final ten contestants, the youngest person to ever reach that level.
Maher has since appeared live at The Great Kids Expo in Chantilly, Virginia, on October 25, 2008, a live broadcast of the 2008 lighting of the National Christmas Tree, on December 4, 2008, attended by President George W. Bush and over 7,000 guests, and the 2009 Cherry Blossom Festival on April 11, 2009. On October 3, 2009, Maher was the opening act of The Addi and Cassi Hempel Fund benefit. Maher has appeared in a Harris Teeter commercial airing during December 2008. She was also selected by Compassion International as its first ever Child Ambassador, visited children in El Salvador with Compassion, got to meet her sponsored child, and shot a music video to her title song "You Were Meant to Be."
Maher signed a recording deal late in 2009 with Indie Extreme for the release of her debut album You Were Meant To Be. The album was released December 15, 2009. Kaitlyn appeared in the Disney direct to video movie Santa Buddies as the voice for the character, Tiny, which was released on November 24, 2009. Maher played the orphan Quinn in The Search for Santa Paws released as a direct to video on November 23, 2010 which had its television premiere on the Disney Channel in December 2011. She played Sarah Reynolds in the sequel titled Santa Paws 2: The Santa Pups released on November 20, 2012.
SOMEWHERE OUT THERE
Somewhere out there beneath the pale moonlight
Someone's thinking of me and loving me tonight
Somewhere out there someone's saying a prayer
That we'll find one another in that big somewhere out there
And even though I know how very far apart we are
It helps to think we might be wishing on the same bright star
And when the night wind starts to sing a lonesome lullaby
It helps to think we're sleeping underneath the same big sky
Somewhere out there if love can see us through
Then we'll be together somewhere out there
Out where dreams come true