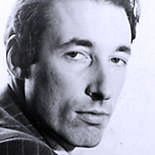 Frederick Louis MacNeice (September 12, 1907 – September 3, 1963) was an Irish poet and playwright.
MacNeice was part of the generation of "thirties poets" that included W. H. Auden, Stephen Spender and Cecil Day-Lewis, nicknamed "MacSpaunday" as a group – a name invented by Roy Campbell, in his Talking Bronco (1946). His body of work was widely appreciated by the public during his lifetime, due in part to his relaxed, but socially and emotionally aware style. Never as overtly (or simplistically) political as some of his contemporaries, his work shows a humane opposition to totalitarianism as well as an acute awareness of his Irish roots.
THE SUNLIGHT ON THE GARDEN
Louis MacNeice
The sunlight on the garden
Hardens and grows cold,
We cannot cage the minute
Within its nets of gold;
When all is told
We cannot beg for pardon.
Our freedom as free lances
Advances towards its end;
The earth compels, upon it
Sonnets and birds descend;
And soon, my friend,
We shall have no time for dances.
The sky was good for flying
Defying the church bells
And every evil iron
Siren and what it tells:
The earth compels,
We are dying, Egypt, dying
And not expecting pardon,
Hardened in heart anew,
But glad to have sat under
Thunder and rain with you,
And grateful too
For sunlight on the garden.