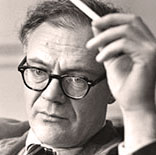 Robert Traill Spence "Cal" Lowell IV (March 1, 1917 – September 12, 1977) was an American poet.
He was born into a Boston Brahmin family that could trace its origins back to the Mayflower. His family, past and present, were important subjects in his poetry.
He was appointed the sixth Poet Laureate Consultant in Poetry to the Library of Congress, where he served from 1947 until 1948. In addition to winning the National Book Award, he won the Pulitzer Prize for Poetry in 1947 and 1974, the National Book Critics Circle Award in 1977, and a National Institute of Arts and Letters Award in 1947. He is "widely considered one of the most important American poets of the postwar era.
CHILDREN OF LIGHT
Robert Lowell
Our fathers wrung their bread from stocks and stones
And fenced their gardens with the Redmen's bones;
Embarking from the Nether Land of Holland,
Pilgrims unhouseled by Geneva's night,
They planted here the Serpent's seeds of light;
And here the pivoting searchlights probe to shock
The riotous glass houses built on rock,
And candles gutter by an empty altar,
And light is where the landless blood of Cain
Is burning, burning the unburied grain.
=======
TO SPEAK OF WOE THAT IS IN MARRIAGE
Robert Lowell
The hot night makes us keep our bedroom windows open.
Our magnolia blossoms. Life begins to happen.
My hopped up husband drops his home disputes,
and hits the streets to cruise for prostitutes,
free-lancing out along the razor's edge.
This screwball might kill his wife, then take the pledge.
Oh the monotonous meanness of his lust…
It's the injustice… he is so unjust-
whiskey-blind, swaggering home at five.
My only thought is how to keep alive.
What makes him tick? Each night now I tie
ten dollars and his car key to my thigh….
Gored by the climacteric of his want,
he stalls above me like an elephant.