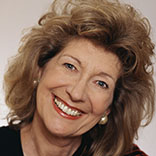 Dame Felicity Ann Emwhyla Lott, (born May 8, 1947) is an English soprano.
She has a special love for French "mélodies", German "Lieder" and the English song repertoire, particularly the songs of Benjamin Britten. She is a founding member of Songmakers' Almanac. Her accompanist since her student days has been Graham Johnson, and they have given a great number of recitals together. She also has performed duet recitals with mezzo-soprano Ann Murray, baritone Thomas Allen and Austrian mezzo-soprano Angelika Kirchschlager. She is also featured as a soloist in a recording of the Mozart Requiem in D Minor with the London Philharmonic Choir and Orchestra.
Felicity Lott has received many honorary doctorates, including the Universities of Oxford, London, Leicester, Sussex, the Royal Scottish Academy of Music and Drama, Glasgow and the Sorbonne in Paris. She has been elected to the French Legion of Honor and made a DBE in 1996. She sang at the wedding of HRH Prince Andrew in 1986. In 2003 Dame Felicity was awarded the title of Bayerische Kammersängerin. She is Vice-President of British Youth Opera and The Bach Choir.