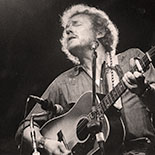 Gordon Meredith Lightfoot, Jr. (born November 17, 1938) is a Canadian singer-songwriter who achieved international success in folk, folk-rock, and country music, and has been credited for helping define the folk-pop sound of the 1960s and 1970s. He has been referred to as Canada's greatest songwriter and internationally as a folk-rock legend.
Lightfoot's songs, including "For Lovin' Me", "Early Morning Rain", "Steel Rail Blues", "Ribbon of Darkness"—a number one hit on the U.S. country chart with Marty Robbins's cover in 1965— and the 1967 Detroit riot-generated "Black Day in July", brought him international recognition in the 1960s. He experienced chart success in Canada with his own recordings, beginning in 1962 with the No. 3 hit "(Remember Me) I'm the One". Lightfoot's recordings then made an impact on the international music charts as well in the 1970s, with songs such as "If You Could Read My Mind" (1970) (No. 5 on the US chart), "Sundown" (1974), "Carefree Highway" (1974), "Rainy Day People" (1975), all reaching No. 1, and "The Wreck of the Edmund Fitzgerald" (1976) (No. 2).
Some of Lightfoot's albums have achieved gold and multi-platinum status internationally. His songs have been recorded by some of the world's most renowned recording artists, including Elvis Presley, Johnny Cash, Hank Williams Jr., The Kingston Trio, Marty Robbins, Jerry Lee Lewis, Neil Young, Bob Dylan, Judy Collins, Barbra Streisand, Johnny Mathis, Herb Alpert, Harry Belafonte, Scott Walker, Sarah McLachlan, Eric Clapton, John Mellencamp, Jack Jones, Bobby Vee, Roger Whittaker, Peter, Paul and Mary, Glen Campbell, The Irish Rovers, Nico, Olivia Newton-John and Paul Weller.