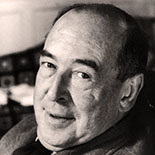 Clive Staples Lewis (November 29, 1898 – November 22, 1963), commonly called C. S. Lewis and known to his friends and family as "Jack", was a novelist, poet, academic, medievalist, literary critic, essayist, lay theologian, and Christian apologist.
Born in Belfast, Ireland, he held academic positions at both Oxford University (Magdalen College), 1925–54, and Cambridge University (Magdalene College), 1954–63. He is best known both for his fictional work, especially The Screwtape Letters, The Chronicles of Narnia, and The Space Trilogy, and for his non-fiction Christian apologetics, such as Mere Christianity, Miracles, and The Problem of Pain.
Lewis's works have been translated into more than 30 languages and have sold millions of copies. The books that make up The Chronicles of Narnia have sold the most and have been popularized on stage, TV, radio, and cinema.
AFTER PRAYERS, LIE COLD
C. S. Lewis
Arise my body, my small body, we have striven
Enough, and He is merciful; we are forgiven.
Arise small body, puppet-like and pale, and go,
White as the bed-clothes into bed, and cold as snow,
Undress with small, cold fingers and put out the light,
And be alone, hush'd mortal, in the sacred night,
-A meadow whipt flat with the rain, a cup
Emptied and clean, a garment washed and folded up,
Faded in color, thinned almost to raggedness
By dirt and by the washing of that dirtiness.
Be not too quickly warm again. Lie cold; consent
To weariness' and pardon's watery element.
Drink up the bitter water, breathe the chilly death;
Soon enough comes the riot of our blood and breath.
=========
SCIENCE-FICTION CRADLESONG
C. S. Lewis
By and by Man will try
To get out into the sky,
Sailing far beyond the air
From Down and Here to Up and There.
Stars and sky, sky and stars
Make us feel the prison bars.
Suppose it done.
Now we ride
Closed in steel, up there, outside
Through our port-holes see the vast
Heaven-scape go rushing past.
Shall we? All that meets the eye
Is sky and stars, stars and sky.
Points of light with black between
Hang like a painted scene
Motionless, no nearer there
Than on Earth, everywhere
Equidistant from our ship.
Heaven has given us the slip.
Hush, be still.
Outer space
Is a concept, not a place.
Try no more.
Where we are
Never can be sky or star.
From prison, in a prison, we fly;
There's no way into the sky.