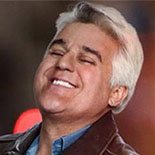 James Douglas Muir "Jay" Leno (born April 28, 1950) is an American comedian, actor, writer, producer, voice actor, and television host.
He was the host of NBC's The Tonight Show with Jay Leno from 1992 to 2009. Beginning in September 2009, Leno started a primetime talk show, titled The Jay Leno Show, which aired weeknights at 10:00 p.m. ET, also on NBC.
After The Jay Leno Show was canceled in January 2010 amid a host controversy, Leno returned to host The Tonight Show with Jay Leno on March 1, 2010. He hosted his last episode of The Tonight Show on February 6, 2014. That year, he was inducted into the Television Hall of Fame.