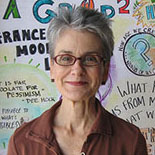 Frances Moore Lappé (born February 10, 1944) is the author of 18 books including the three-million copy Diet for a Small Planet. She is the co-founder of three national organizations that explore the roots of hunger, poverty and environmental crises, as well as solutions now emerging worldwide through what she calls Living Democracy. Her most recent book is EcoMind: Changing the Way We Think to Create the World We Want.
Throughout her works Lappé has argued that world hunger is caused not by the lack of food but rather by the inability of hungry people to gain access to the abundance of food that exists in the world and/or food-producing resources because they are simply too poor. She has posited that our current "thin democracy" creates a mal-distribution of power and resources that inevitably creates waste and an artificial scarcity of the essentials for sustainable living.
In 2002, Lappé and her daughter Anna established the Small Planet Institute based in Cambridge, Massachusetts a collaborative network for research and popular education to bring democracy to life. With her daughter, she is also co-founder of the Small Planet Fund, channeling resources to democratic social movements worldwide.
Lappé has received 17 honorary doctorates from distinguished institutions. In 2008, she was honored by the James Beard Foundation as the Humanitarian of the Year.In the same year, Gourmet Magazine named Lappé among 25 people (including Thomas Jefferson, Upton Sinclair, and Julia Child), whose work has changed the way America eats. Diet for a Small Planet was selected as one of 75 Books by Women Whose Words Have Changed the World by members of the Women's National Book Association in observance of its 75th anniversary.
Historian Howard Zinn wrote: "A small number of people in every generation are forerunners, in thought, action, spirit, who swerve past the barriers of greed and power to hold a torch high for the rest of us. Lappé is one of those."