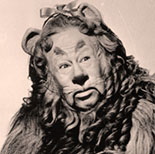 Bert Lahr (born Irving Lahrheim; August 13, 1895 – December 4, 1967) was an American actor and comedian. Lahr is remembered largely for his role as Kansas farmworker Zeke and the Cowardly Lion in The Wizard of Oz (1939). He was very well known for work in burlesque, vaudeville, and on Broadway.
Lahr's most iconic role was that of the Cowardly Lion in Metro-Goldwyn-Mayer's 1939 adaptation of The Wizard of Oz. Lahr was signed to play the role on July 25, 1938. He starred opposite Judy Garland, Ray Bolger, Jack Haley, Frank Morgan, and Margaret Hamilton. Lahr's lion costume was composed of lion fur and, under the high-voltage lighting required for Oz's Technicolor scenes, the costume was unbearably hot. Lahr contributed ad-lib comedic lines for his character. The Cowardly Lion is the only character who sings two solo song numbers-"If I Only Had the Nerve," performed after the initial meeting with Dorothy, The Scarecrow, and The Tin Man in the forest, and "If I Were King of the Forest," performed while he and the others are awaiting their audience with the Wizard.
An original Cowardly Lion costume worn by Bert Lahr in The Wizard of Oz is in the holdings of The Comisar Collection, which is also the largest collection of television artifacts and memorabilia in the world.