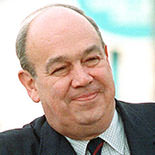 Charles Kuralt (September 10, 1934 – July 4, 1997) was an American journalist.
Kuralt was most widely known for his long career with CBS, first for his "On the Road" segments on The CBS Evening News with Walter Cronkite, and later as the first anchor ofCBS News Sunday Morning, a position he held for fifteen years.
Kuralt's "On the Road" segments were recognized twice with personal Peabody Awards. The first, awarded in 1968, cited those segments as heartwarming and "nostalgic vignettes"; in 1975, the award was for his work as a U.S. "bicentennial historian"; his work "capture[d] the individuality of the people, the dynamic growth inherent in the area, and …the rich heritage of this great nation." He shared in a third Peabody awarded to CBS News Sunday Morning.