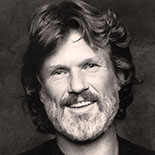 Kristoffer "Kris" Kristofferson (born June 22, 1936) is an American country music singer, songwriter, musician, and film actor.
He is known for writing and recording such hits as "Me and Bobby McGee", "For the Good Times", "Sunday Mornin' Comin' Down", and "Help Me Make It Through the Night".
Kristofferson is the sole writer of most of his songs, and he has collaborated with various other figures of the Nashville scene such as Shel Silverstein. In 1985, Kristofferson joined fellow country artists Waylon Jennings, Willie Nelson and Johnny Cash in forming the country music supergroup "The Highwaymen". In 2004, Kristofferson was inducted into the Country Music Hall of Fame. He is also known for his acting work, including his role as Earl Hurley in The Motel Life, which he co-starred in opposite Emile Hirsch, Stephen Dorff, and Dakota Fanning.