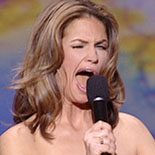 Lynne Koplitz, born June 13, 1969, is an American stand-up comedian and actress.
Koplitz was host of Telepictures' nationally syndicated dating show Change of Heart, guest host on NBC's Later, co-host of the Food Network's How to Boil Water, and co-host of Sony Pictures syndicated talk show Life and Style. Her stand-up has appeared on a number of Comedy Central specials, including Premium Blend. She performed at the Montreal Comedy Festival.
Koplitz earned a BA in theater arts from Troy University where she was a member of the Iota Kappa Chapter of Chi Omega in 1989. She performed for a regional theater group in Knoxville, Tennessee, before moving to New York City.
Koplitz is one of the comedian contributors to the "History of the Joke" on the History Channel, hosted by Lewis Black. Koplitz was featured in a series of advertisements for her alma mater, Troy University. She co-starred on Sony's syndicated talk show Life and Style with Jules Asner and Kimora Lee Simmons, as well as the NBC shows Extra, The Other Half, and last year's Shop & Style. Lynne also has her own half-hour special, Comedy Central Presents: Lynne Koplitz, currently in rotation on Comedy Central. She is also currently featured in one of the "What's Funny About That Time Of The Month" series of advertisements for Midol, with the "Sick Boyfriend" installment. Furthermore, she can also be seen on Z Rock, on IFC, where she plays Dina, the manager of the show's band, ZO2. In 2009 she co-hosted a radio show called "StarTalk" along with well-known astrophysicist Dr. Neil deGrasse Tyson. The show is syndicated Sunday afternoons on KEIB in Los Angeles and WHFS in Washington DC.