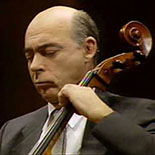 János Starker (July 5, 1924 – April 28, 2013) was a Hungarian-American cellist.
From 1958 until his death, he taught at the Indiana University Jacobs School of Music, where he held the title of Distinguished Professor.
Starker was born in Budapest to a father of Polish descent and a mother who had immigrated from Ukraine, both Jewish. His two older brothers were violinists, and the young János (named for the hospital in which he was born) was given a cello before his sixth birthday. A child prodigy, Starker made his first public performances at ages six and seven. He entered the Franz Liszt Academy of Music in Budapest and made his debut there at age 11. Starker began teaching other children at age eight, and by the time he was 12, he had five pupils.
Starker made his professional debut at age 14, playing the Dvořák concerto with three hours' notice when the originally scheduled soloist was unable to play. He left the Liszt Academy in 1939 and spent most of the war in Budapest. Because of his youth, Starker escaped the tragic fate of his older brothers, who were pressed into forced labor and eventually murdered by the Nazis. Starker nevertheless spent three months in a Nazi internment camp.