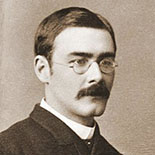 Joseph Rudyard Kipling (December 30, 1865 – January 18, 1936) was an English short-story writer, poet, and novelist.
Kipling's works of fiction include The Jungle Book (1894), Kim (1901), and many short stories, including "The Man Who Would Be King" (1888). His poems include "Mandalay" (1890), "Gunga Din" (1890), "The Gods of the Copybook Headings" (1919), "The White Man's Burden" (1899), and "If—" (1910). He is regarded as a major innovator in the art of the short story; his children's books are classics of children's literature; and one critic described his work as exhibiting "a versatile and luminous narrative gift".
Kipling was one of the most popular writers in the United Kingdom, in both prose and verse, in the late 19th and early 20th centuries. Henry James said: "Kipling strikes me personally as the most complete man of genius (as distinct from fine intelligence) that I have ever known." In 1907, he was awarded the Nobel Prize in Literature, making him the first English-language writer to receive the prize, and its youngest recipient to date. He was also sounded out for the British Poet Laureateship and on several occasions for a knighthood, both of which he declined.
A CODE OF MORALS
Rudyard Kipling
Now Jones had left his new-wed bride to keep his house in order,
And hied away to the Hurrum Hills above the Afghan border,
To sit on a rock with a heliograph; but ere he left he taught
His wife the working of the Code that sets the miles at naught.
And Love had made him very sage, as Nature made her fair;
So Cupid and Apollo linked , per heliograph, the pair.
At dawn, across the Hurrum Hills, he flashed her counsel wise —
At e'en, the dying sunset bore her busband's homilies.
He warned her 'gainst seductive youths in scarlet clad and gold,
As much as 'gainst the blandishments paternal of the old;
But kept his gravest warnings for (hereby the ditty hangs)
That snowy-haired Lothario, Lieutenant-General Bangs.
'Twas General Bangs, with Aide and Staff, who tittupped on the way,
When they beheld a heliograph tempestuously at play.
They thought of Border risings, and of stations sacked and burnt —
So stopped to take the message down — and this is whay they learnt —
"Dash dot dot, dot, dot dash, dot dash dot" twice. The General swore.
"Was ever General Officer addressed as 'dear' before?
"'My Love,' i' faith! 'My Duck,' Gadzooks! 'My darling popsy-wop!'
"Spirit of great Lord Wolseley, who is on that mountaintop?"
The artless Aide-de-camp was mute; the gilded Staff were still,
As, dumb with pent-up mirth, they booked that message from the hill;
For clear as summer lightning-flare, the husband's warning ran: —
"Don't dance or ride with General Bangs — a most immoral man."
[At dawn, across the Hurrum Hills, he flashed her counsel wise —
But, howsoever Love be blind, the world at large hath eyes.]
With damnatory dot and dash he heliographed his wife
Some interesting details of the General's private life.
The artless Aide-de-camp was mute, the shining Staff were still,
And red and ever redder grew the General's shaven gill.
And this is what he said at last (his feelings matter not): —
"I think we've tapped a private line. Hi! Threes about there! Trot!"
All honour unto Bangs, for ne'er did Jones thereafter know
By word or act official who read off that helio.
But the tale is on the Frontier, and from Michni to Mooltan
They know the worthy General as "that most immoral man."
============
IF
Rudyard Kipling
If you can keep your head when all about you
Are losing theirs and blaming it on you;
If you can trust yourself when all men doubt you,
But make allowance for their doubting too:
If you can wait and not be tired by waiting,
Or, being lied about, don't deal in lies,
Or being hated don't give way to hating,
And yet don't look too good, nor talk too wise;
If you can dream—and not make dreams your master;
If you can think—and not make thoughts your aim,
If you can meet with Triumph and Disaster
And treat those two impostors just the same:.
If you can bear to hear the truth you've spoken
Twisted by knaves to make a trap for fools,
Or watch the things you gave your life to, broken,
And stoop and build'em up with worn-out tools;
If you can make one heap of all your winnings
And risk it on one turn of pitch-and-toss,
And lose, and start again at your beginnings,
And never breathe a word about your loss:
If you can force your heart and nerve and sinew
To serve your turn long after they are gone,
And so hold on when there is nothing in you
Except the Will which says to them: "Hold on!"
If you can talk with crowds and keep your virtue,
Or walk with Kings—nor lose the common touch,
If neither foes nor loving friends can hurt you,
If all men count with you, but none too much:
If you can fill the unforgiving minute
With sixty seconds' worth of distance run,
Yours is the Earth and everything that's in it,
And—which is more—you'll be a Man, my son!