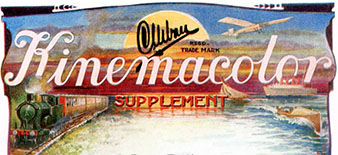 Kinemacolor was the first successful color motion picture process, used commercially from 1908 to 1914. It was invented by George Albert Smith of Brighton, England in 1906.
He was influenced by the work of William Norman Lascelles Davidson and, more directly, Edward Raymond Turner. It was launched by Charles Urban's Urban Trading Co. of London in 1908. From 1909 on, the process was known as Kinemacolor. It was a two-color additive color process, photographing and projecting a black-and-white film behind alternating red and green filters.
The first motion picture exhibited in Kinemacolor was an eight-minute short filmed in Brighton titled A Visit to the Seaside, which was trade shown in September 1908. On February 26, 1909, the general public first saw Kinemacolor in a program of twenty-one short films shown at the Palace Theater in London. The process was first seen in the United States on December 11, 1909, at an exhibition staged by Smith and Urban at Madison Square Garden in New York.
In 2012, the National Media Museum in Bradford, England discovered a very early three-color alternating-filter film, dated to 1902, made by Edward Raymond Turner. It is believed to be the earliest color movie footage known. Turner's process, for which Charles Urban had provided financial backing, was adapted by Smith after Turner's sudden death in 1903, and this in turn became Kinemacolor.