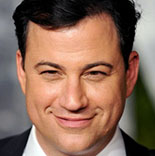 James Christian "Jimmy" Kimmel (born November 13, 1967) is an American television host, producer, writer, comedian, voice actor, musician and radio personality.
Kimmel is the host and executive producer of Jimmy Kimmel Live!, a late-night talk show that premiered on ABC in 2003. Kimmel also hosted the 64th Primetime Emmy Awards on September 23, 2012.
Prior to hosting Jimmy Kimmel Live!, he was best known as the co-host of Comedy Central's The Man Show and Win Ben Stein's Money. Kimmel has also produced such shows as Crank Yankers, Sports Show with Norm Macdonald, and The Andy Milonakis Show.