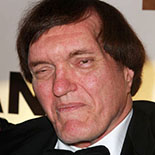 Richard Dawson Kiel (September 13, 1939 – September 10, 2014) was an American actor.
Kiel is known for his role of the steel-toothed Jaws in the James Bond movies The Spy Who Loved Me (1977) and Moonraker (1979) as well as the video game Everything or Nothing; he also had cameos in many other James Bond video games.
He was also known for roles in The Longest Yard (1974), Force 10 from Navarone (1978), Pale Rider (1985), and as Mr. Larson in the 1996 comedy Happy Gilmore. In television he appeared as the Kanamit aliens in the classic The Twilight Zone episode "To Serve Man" and as Dr. Miguelito Loveless' assistant, Voltaire, in first-season episodes of The Wild, Wild West (1965-1966).