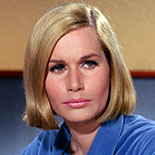 Sally Claire Kellerman (born June 2, 1937) is an American actress, activist, author, producer, singer and voice-over artist.
Kellerman's acting career spans nearly 60 years, and her role as Major Margaret "Hot Lips" O'Houlihan in Robert Altman's film M*A*S*H (1970) earned her an Oscar nomination for Best Actress in a Supporting Role. After MASH, she appeared in a number of the director's projects: the films Brewster McCloud (1970), Welcome to L.A. (1976), The Player(1992) and Prêt-à-Porter (1994), and the short-lived anthology TV series Gun (1997). In addition to her work with Altman, Kellerman has appeared in The Outer Limits (1965), Star Trek (1966), Bonanza (1966, 1970) Last of the Red Hot Lovers(1972), Back to School (1986), The Minor Accomplishments of Jackie Woodman (2006), 90210 (2008), Chemistry (2011) and Maron (2013).
At age 18 Kellerman signed a recording contract with Verve Records, but her first album (Roll With the Feelin') was not recorded until 1972. A second album, Sally, was released in 2009. Kellerman also contributed songs to the soundtracks for Brewster McCloud (1970), Lost Horizon (1973), Rafferty and the Gold Dust Twins (1975) and Boris and Natasha: The Movie (1992).