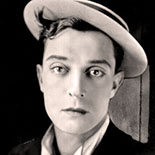 Joseph Frank "Buster" Keaton (October 4, 1895 – February 1, 1966) was an American actor, vaudevillian, comedian, filmmaker, stunt performer, and writer.
Keaton was best known for his silent films, in which his trademark was physical comedy with a consistently stoic, deadpan expression, earning him the nickname "The Great Stone Face".
Buster Keaton (his lifelong stage name) was recognized as the seventh-greatest director by Entertainment Weekly. In 1999, the American Film Institute ranked Keaton the 21st-greatest male star. Critic Roger Ebert wrote of Keaton's "extraordinary period from 1920 to 1929, [when] he worked without interruption on a series of films that make him, arguably, the greatest actor-director in the history of the movies." His career declined afterward with a dispiriting loss of his artistic independence when he was hired by MGM resulting in a crippling alcoholism that ruined his family life. However, he recovered in the 1940s, remarried and revived his career to a degree as an honored comic performer for the rest of his life, earning an Academy Honorary Award in 1958.
Orson Welles stated that Keaton's The General is "the greatest comedy ever made, the greatest Civil War film ever made, and perhaps the greatest film ever made." A 2002 worldwide poll by Sight & Sound ranked Keaton's The General as the 15th best film of all time. Three other Keaton films received votes in the magazine's survey: Our Hospitality, Sherlock, Jr., and The Navigator.